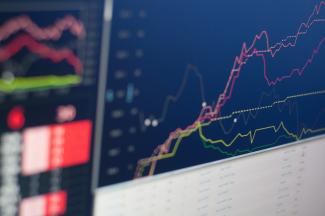 U.S. Stocks Closed Yesterday At Their Lowest Point For The Season
U.S. stock futures are lower. U.S. stocks closed yesterday at their lowest point for the session. This drop occurred following the anticipated decision by the Federal Reserve to maintain the policy rate. However, the central bank also signaled in the Summary of Economic Projections that there could be one more interest rate hike before the year concludes. Today, stocks are adjusting to this news and continuing their post-Fed decline, as indicated by futures pointing to a lower opening for the S&P 500. In contrast, Treasury yields are surging, with the 10-Year reaching a new high for this cycle. Adding to the downward pressure, weekly jobless claims data released this morning was better than expected. The data came in at 201k, which is below both the consensus forecast and previous readings of 225k and 220k, respectively. Internationally, equities are also on a downward trend. Asian markets closed the session broadly lower, anticipating the upcoming Bank of Japan rate decision tomorrow. European markets are following suit, reacting to the recent announcements from the central banks of England and Switzerland, both of which have chosen to keep interest rates unchanged. Meanwhile, the U.S. dollar is strengthening, while the price of gold is decreasing and crude oil is on an upward trajectory.
DISCLAIMER: THIS MATERIAL MAY CONTAIN INACCURACIES AND TYPOGRAPHICAL ERRORS. UNITED ASSET DOES NOT WARRANT THE ACCURACY OR COMPLETENESS OF THE MATERIALS OR THE RELIABILITY OF ANY ADVICE, OPINION, STATEMENT OR OTHER INFORMATION DISPLAYED OR DISTRIBUTED THROUGH THE SITE.