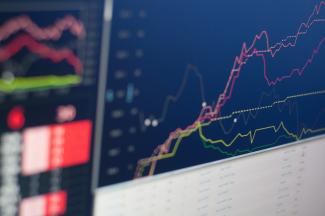 U.S. Stock Futures Are Lower As Investors Continue to Digest Earnings Reports
U.S. stock futures are lower. Futures and Yields are lower this morning as investors continue to digest earnings reports and Fedspeak. Weekly initial jobless claims came in at 245,000, an increase from prior data of 240,000. Existing home sales and leading indicators for March will be reported after the opening bell. Asian stocks finished mixed and European stocks are trading lower. Crude prices continue to drop, gold is on the rise and the dollar is under pressure.
DISCLAIMER: THIS MATERIAL MAY CONTAIN INACCURACIES AND TYPOGRAPHICAL ERRORS. UNITED ASSET DOES NOT WARRANT THE ACCURACY OR COMPLETENESS OF THE MATERIALS OR THE RELIABILITY OF ANY ADVICE, OPINION, STATEMENT OR OTHER INFORMATION DISPLAYED OR DISTRIBUTED THROUGH THE SITE.