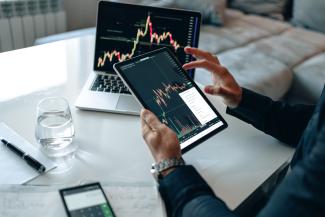 Stocks Are Moving Higher In The Pre-Market And Yields Are Rising
U.S. stock futures are higher. Stocks are moving higher in the pre-market and yields are rising. Market tension related to the banking sector is easing as bank regulators return for a second day of congressional testimony. European markets are on the rise and Asian markets closed mostly higher. March Consumer Confidence beat expectations and ticked up from February's reading. Pending Home Sales data for February will be released after the bell. Tomorrow, final GDP for Q4 2022 is expected to be unchanged at 2.7%. The Dollar and Crude are gaining strength and Gold is on the decline.
DISCLAIMER: THIS MATERIAL MAY CONTAIN INACCURACIES AND TYPOGRAPHICAL ERRORS. UNITED ASSET DOES NOT WARRANT THE ACCURACY OR COMPLETENESS OF THE MATERIALS OR THE RELIABILITY OF ANY ADVICE, OPINION, STATEMENT OR OTHER INFORMATION DISPLAYED OR DISTRIBUTED THROUGH THE SITE.