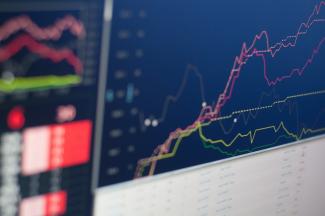 Stock Futures Indicate a Slightly Lower Opening Following Yesterday's Solid Market Gains and Robust Economic Data
U.S. stock futures are lower. Stock futures are indicating a slightly lower opening following yesterday's solid market gains and robust economic data, which sent yields higher. This morning, yields are edging down as market participants anticipate more hawkish remarks from Fed Chair Powell when he joins his ECB, BoE and BoJ counterparts during the ECB summit for a panel discussion at 9:30 am. In international markets, Asian indexes concluded with mostly positive results, led by the Japanese Nikkei 225, which rebounded from a three-day losing streak to close 2% higher. Chinese markets exhibited mixed performances in response to ongoing declines in industrial profits. Meanwhile, European markets are mostly trading higher, with the focus continuing to center around the ECB central banking summit in Portugal. Crude oil prices are easing this morning as markets continue to shake off the short-lived Russian uprising, which posed a threat to global supply. Gold prices are experiencing a decline, while the U.S. Dollar is strengthening.
DISCLAIMER: THIS MATERIAL MAY CONTAIN INACCURACIES AND TYPOGRAPHICAL ERRORS. UNITED ASSET DOES NOT WARRANT THE ACCURACY OR COMPLETENESS OF THE MATERIALS OR THE RELIABILITY OF ANY ADVICE, OPINION, STATEMENT OR OTHER INFORMATION DISPLAYED OR DISTRIBUTED THROUGH THE SITE.