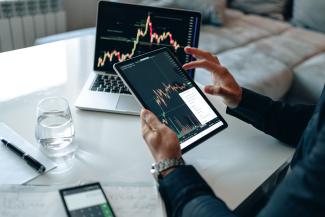 Stock Futures Are On An Uptick Following The Federal Reserve's Recent Announcement
U.S. stock futures are higher. Stock futures are on an uptick following the Federal Reserve's recent announcement of an additional 25 basis point hike to the policy rate yesterday. Chairman Powell remarked that the Fed staff is no longer forecasting a recession and that future rate hike decisions will be data-dependent. Yields are experiencing an upward trend this morning, buoyed by preliminary data that indicates robust GDP growth of 2.4% for the second quarter, surpassing expectations of 1.5% growth. Additionally, the durable goods orders for June have exceeded expectations.
Initial jobless claims have declined to 221k from the previous 228k, and came in softer than estimates of 235k. Looking ahead, tomorrow morning's PCE inflation data will provide a second read on June's inflation. International market trading is mostly positive. Asian markets concluded the session mostly higher and European markets are gaining momentum in afternoon trading following the European Central Bank's announcement of a 25 basis rate hike. In the commodities market, crude oil prices are on the rise, while gold is experiencing a decline. Simultaneously, the dollar is gaining strength.
DISCLAIMER: THIS MATERIAL MAY CONTAIN INACCURACIES AND TYPOGRAPHICAL ERRORS. UNITED ASSET DOES NOT WARRANT THE ACCURACY OR COMPLETENESS OF THE MATERIALS OR THE RELIABILITY OF ANY ADVICE, OPINION, STATEMENT OR OTHER INFORMATION DISPLAYED OR DISTRIBUTED THROUGH THE SITE.