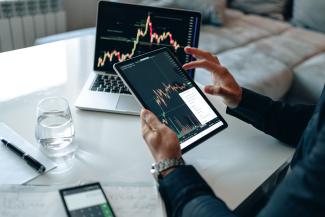 Equity Futures Moving Higher This Morning Following a Week of Losses
U.S. stock futures are higher. Equity futures are moving higher this morning, following a week of losses in U.S. markets for the third-consecutive week. In recent weeks, a move higher in long-dated treasuries and concerns over China's economic weakness has exerted pressure on stocks As of this morning, yields are trending higher, and China has unveiled additional policy rate cuts in a bid to bolster economic growth. The focus on retail continues as a number of large retailers are set to report quarterly results this week. Earnings season continues to come to an end and so far 95% of companies in the S&P 500 have reported earnings. Approximately 80% of those companies have beat Wall Street's earnings expectations. Today, there are no significant economic data releases scheduled, as the week will culminate with a speech by Federal Reserve Chairman Powell at the Jackson Hole Economic Symposium on Friday morning. In the international markets, Asian stock indexes finished mostly lower lead by losses in China after Bank of China cut the 1-year prime rate but unexpectedly left the 5-year prime rate unchanged. European markets are holding on to gains in afternoon trading. This morning the Dollar is holding steady while crude and gold prices are on the rise.
DISCLAIMER: THIS MATERIAL MAY CONTAIN INACCURACIES AND TYPOGRAPHICAL ERRORS. UNITED ASSET DOES NOT WARRANT THE ACCURACY OR COMPLETENESS OF THE MATERIALS OR THE RELIABILITY OF ANY ADVICE, OPINION, STATEMENT OR OTHER INFORMATION DISPLAYED OR DISTRIBUTED THROUGH THE SITE.