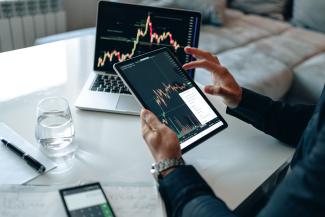 Equities are Concluding A Week of Rangebound Trading and This Trend Persists as Futures Show Little Change
U.S. stock futures are higher. U.S. equities are concluding a week of rangebound trading and this trend persists this morning as futures show little change and yields are slightly increasing. There is mounting anticipation for next week's inflation data and the upcoming Fed meeting. Today's economic calendar is light, following yesterday's jump in jobless claims. Despite the strong data, the S&P 500 marked a milestone, rising 20% from October lows, signifying a technical bull market. Across the globe, Asian markets ended the week on a predominantly positive note, driven by cooler-than-expected Chinese inflation data. Meanwhile, European markets are experiencing a slight decline in afternoon trading. Crude prices have decreased, whereas gold and the dollar are maintaining stability.
DISCLAIMER: THIS MATERIAL MAY CONTAIN INACCURACIES AND TYPOGRAPHICAL ERRORS. UNITED ASSET DOES NOT WARRANT THE ACCURACY OR COMPLETENESS OF THE MATERIALS OR THE RELIABILITY OF ANY ADVICE, OPINION, STATEMENT OR OTHER INFORMATION DISPLAYED OR DISTRIBUTED THROUGH THE SITE.